We have some really special friends with web pages of their own!
Vic | Gene | Noel | Nhan
---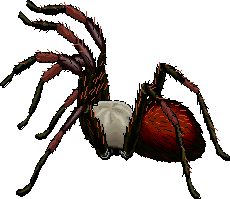 Gene, our train buddy, a writer and breeder of tarantulas.

Noel, another friend and watercolorist

Rose had the pleasure of meeting Vic back in November of 1996. That was great fun! I got to visit him and met his friend Sylvia and we all had a great time, they made my stay really memorable! We love bouncing ideas off each other for web pages and in general anything having to do with the internet. Rich and Vic love discussing music and they both have a sick sense of humour (why doesn't that surprise me?)Vic created most of the buttons here and elsewhere for this site.

Randy and Lori are close friends of ours too! They are alot of fun to talk to. We love discussing literally everything, from books, philosophy, work, and of course surfing the internet together. Of course, a zany sense of humour sure counts in cyberspace!

Gary and Kathy are another couple we chat with as well. We recently received a very nice newsletter from the gang. Ditto, in the humour division as well! They've just gotten Gary's Place and Kathy's Korner up, and it looks great!
Oh, and we mustn't forget Nhan! He's got a great home page that he did in just two weeks. If only it were that easy for me! His page contains lots of nifty links to screensavers, music, games, chat friends and cool links. Nhan created the fractal images in the backgrounds too.
---
We hope to get more of our friends and family to join us in this entertaining form of communication.